Description
Simian Line Palmistry Conversations eBook in PDF
Finally! A Simian line palmistry book. The Simian is when there is a single transverse crease on your palm. The average hand has the distal and proximal lines, better known as the head and heart lines. The Simian Line is quite uncommon. If you have this line, you belong to a small group of single palm line people.
As a member, my favourite Amazon associated links appear on this site.
Whether you are interested in the Simian line because you have it on your palm or if you want to learn more about palmistry, then this book is for you.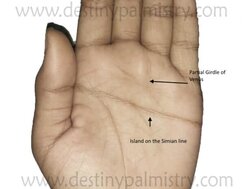 Learn the palmistry meanings, see examples and get to know yourself by connecting with similar personalities. You might not know anyone else with this line, and maybe you feel misunderstood. Perhaps you don't even understand yourself?
I have studied palmistry for well over three decades, and out of all the lines, the Simian line is the most fascinating! To help you learn, I decided to put together some of these conversations. I have talked to people personally through surveys and groups to get to learn about it and know that you are not alone.
Simian Line Conversations
The subtitle for this ebook is 'conversations'. And it's because I have documented discussions and quotes from Simian line owners. You can learn to understand and appreciate yourself and this unique line on the palm.
This book goes beyond the explanation of the line to give you a more in-depth insight into the character traits of Simian liners. 'Don't be afraid to be awesome!'
You can order the PDF version here, or if you prefer a paperback or Kindle version, you can order here instead.
You can also join our conversations in my Facebook group: https://www.facebook.com/groups/simianlinestudy
Read more about the Simian line in this article to give you an idea of what's in the book
WHAT'S IN IT?
CONTENTS:
INTRODUCTION 7
BEFORE YOU BEGIN 9
WHAT IS THE SIMIAN LINE? 9
FACTS ABOUT THE SIMIAN LINE 10
THE DIFFERENCE BETWEEN THE SIMIAN AND STANDARD LINES 11
IF YOU HAVE A CHILD WITH SIMIAN LINES 14
COMMON CHARACTER STRENGTHS AND WEAKNESSES 15
SURVEY RESULTS 17
PLACEMENT OF THE SIMIAN LINE 18
CONNECTED OR DISCONNECTED LINE 19
GIRDLE OF VENUS WITH THE SIMIAN 20
VARIATIONS OF THE SIMIAN LINE 21
VARIATIONS OF THE SIMIAN LINE 22
SUWON AND SYDNEY LINE 23
More about the Suwon crease: 24
BRANCH LINES FROM THE SUWON CREASE: 25
MORE ABOUT THE SYDNEY LINE 26
QUALITY OF THE LINES 27
MARKS ON THE SIMIAN LINE 29
EXAMPLE OF OTHER LINES 30
TIMELINE ON THE SIMIAN LINE 31
TIMING ON THE FATE LINE 32
WHICH HAND TO READ? 32
EXAMPLE TIMING OF AN ISLAND ON THE SIMIAN LINE 33
CHARACTER FROM THE HAND SHAPE 34
SQUARE PALM WITH AVERAGE OR SHORT FINGERS 35
SQUARE PALM WITH LONG FINGERS 35
LONG AND THICK PALM WITH AVERAGE OR SHORT FINGERS 37
LONG PALM WITH AVERAGE OR LONG FINGERS 38
SKIN TEXTURE 40
SIMIAN LINE CONVERSATIONS AND QUOTES 42
CONVERSATION 42
ANOTHER DOUBLE SIMIAN 43
SIMIAN LINE ON BOTH HANDS 44
DOUBLE SIMIAN QUOTES AND COMMENTS 44
SIMIAN ON THE RIGHT-HAND ONLY 78
QUOTES AND CONVERSATIONS 78
SIMIAN ON THE LEFT HAND ONLY 94
QUOTES AND COMMENTS 94
OTHER CONVERSATIONS 100
A MOTHERS CONVERSATION 109
ANOTHER CONVERSATION WITH A MOTHER 110
FAMOUS SIMIAN LINE PEOPLE 113
ABOUT THE AUTHOR 115
INDEX 116
I am part of the Amazon associates and so I have included my favourite links on this website.